Ingredients
½ cup melted coconut oil
¼ cup raw cacao
¼ cup raw local honey
1 drop peppermint essential oil OR 1 drop cinnamon essential oil (These are optional but soo good! My favorite is the peppermint.)
Directions
Put all the ingredients above in the blender and mix.

Pour into molds. These are the 2 molds in the picture above: break-apart bar and hearts.
Put into the freezer and it will be ready in 20 minutes. After that time, I remove the chocolate from the molds and place it in pyrex glass dishes. That easy! Store in freezer otherwise the chocolate with melt.

---
Notes

I always double this recipe because it goes fast at our house!
You can put coconut oil that is solid in the blender, a high-speed blender will liquidize it. However, the chocolate does not look as smooth, it has tiny white specks. This what I do unless I'm making it for people – saves an extra step and cleaning a saucepan!
Instead of 1 drop cinnamon essential oil, you can use 2 teaspoons of ground cinnamon. I buy ceylon cinnamon sticks and grind them up in a coffee grinder. There are 2 types of cinnamon, cassia which is the more popular and widely available option and ceylon. Ceylon is the way to go – more nutritious and easier on the liver. Cinnamon is awesome at regulating blood sugar levels and I frequently add it to desserts because of this.

I like to pair the chocolate with a shot of NingXia Red, an antioxidant powerhouse by Young Living. One ounce of NingXia Red has the same amount of antioxidants as 4 pounds of carrots, 8 oranges, 2 pounds of raw beets, 3 cups of  blueberries, or one pint of orange juice. My 4 year old tells me it tastes like candy. This is also a great thing to add herbs to, in fact, I have not come across anything that better drowns out the taste of bitter herbs! To learn more about NingXia Red and how to started with Young Living, click here.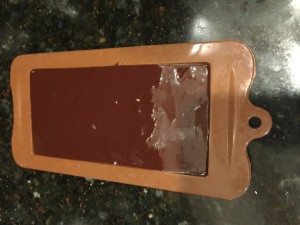 My daughter loves to help me make chocolate and we have gone a little crazy at our house with chocolate molds, we have robots, ducks you name it!  This is how it looks when poured into the mold. Here are the 2 molds in the picture above: break-apart bar and hearts.
Particles of the material food is stored in will leach into the food. So glass is always the preferred method of food storage. Next on the list after that would be stainless steel. That is why I transfer the chocolate from the silicone mold into glass once it has set.